Ned passed away on January 15th, 2022
Celia's remarks at Ned's Memorial
I am used to speaking about "we" as in Ned and me.  It's a custom that goes back several decades.  So, "we", Ned's spirit wherever it may be, and I thank you very much for being here today.
When Ned and I got married, I was 38 years old and he was 53.  We knew who we were and what our life paths were to be, then and in the future.  He knew that what brought meaning to his life was to show his clients how they could manage their expectations, their emotions, their actions so as to heal themselves and find peace and possibly contentment.  I knew that my goal was to contribute to the educational advancement of those most in need, so that they could find meaning in their lives, raise healthy families and contribute to their communities.  These were very high goals and difficult to navigate.  I want to present you a few vignettes, to paint a picture of our lives together for the past 35 years.
We were friends for 3 years before our romance began.  The real fun began in 1985 when we had our first date – we went to the movies. I loved his big broad shoulders and long slim legs. We got married a year and 8 months later.  We tended to think alike in many ways – but let's talk about how we made financial decisions, which can make or break a marriage.  Just before getting married we decided to buy a house – well, after the down payment and closing costs, there was little money left for the wedding.  Did we put the cart before the horse?
We got married in the house we bought and invited around 20 or less friends to this wedding.  We cleaned the house ourselves; prepared the dinner; I bought the flowers at the street market to make flower arrangements; we served a nice dinner with champagne and punch.  We had a lovely wedding.  Honeymoon? Where? Ned said we should go to Yosemite, it was nearby, beautiful and not costly.  He began calling the Yosemite reservation line daily 3 weeks before our wedding to see if they had any cancellations.  You know, Yosemite fills up a year or more in advance. Miraculously, he got us a cabin at Curry Village. I still remember that delicious trout they served in their dining room.
Here is a vignette of our honeymoon: Ned liked to be read to. He was always more auditory than visual, even when he could see well. Some of you may have visited Mirror Lake in Yosemite when it was still a Lake – it's a meadow now. We took the free bus that runs throughout the Yosemite Valley loop to the stop close to Mirror Lake and walked to the lake.  I remember looking over at the glittering reflection of Half Dome on the lake and thinking I had never seen anything more beautiful in my life.  We sat on the ground with Ned's head on my lap as I began to read to him a story by Isaac Bashevis Singer, the 1978 Nobel Prize winner for Literature.  Ned loved stories, especially those with characters woven in community life.  I would read and pause to take a look at the lake and its reflection, thinking I was in paradise.
Another vignette.  Recently I went to a concert by Roseanne Cash, Johnny Cash's daughter, and an acclaimed artist in her own right.  Just before the concert, as people were finding their seats, country western music was being piped in and I heard a song I had never heard before called "I believe in you" and I was overcome by emotion, a lump in my throat and watery eyes.  I did not know if I could stay through the concert, but I did.  The song goes something like this: "I know with all my certainty that what's going on with you and me is a good thing, it's true, I believe in you." This is what Ned gave to me and I gave him: "I believe in you." I knew that in order to fulfill my pathway I had to go up the ladder, where the decisions were made to find resources, to hire talented people, to refresh programs with new blood.  It was a scary thing to go out looking for opportunities, facing hiring committees and college forums bigger than this room.  But I had someone in my court, and that was Ned, who sometimes went to the interviews with me and stayed behind the scenes at the hotel, just so I would know that there was somebody who believed in me.  When the answer to the question "will you hire me" came back as a "no", we both felt a dagger through our hearts. And then dusted ourselves off, picked ourselves up and went back out when another opportunity presented itself.
Conversely, I believed in him.  Two or three years after we got married I said to him: "I notice that you spend a great deal of time looking for clients and that's not where your passion is.  Wouldn't it be more fulfilling if you found a nonprofit employer that attracts clients and you would just do what you love to do which is counseling?"  He found that employer and the last 10 or 12 years of his career were dedicated to doing what he loved best – counseling, guiding children in day treatment, helping those with chemical dependency with another employer and presenting ideas to his colleagues. I believed in him.
As a clergy counselor he listened to many patients in recovery working through the 12 steps of Alcoholics Anonymous, Narcotics Anonymous, you know those programs. I am told that the fifth step is the most difficult of all the steps which reads: "Admit to a Higher Power, to yourself, and to another human being the exact nature of your wrongs."  You know that people with addictions hurt themselves and those who love them. As a clergy counselor, Ned heard more than 3000 of these confessions from clients in recovery. I can't even begin to think of the talent, the training and stamina necessary to do this work.
On occasion Ned was called upon to lead a service at a United Church of Christ as a substitute minister. While we still lived in Sacramento, he was called once to substitute for a whole summer up at El Dorado Hills. When he preached he picked examples from very accessible materials.  I remember a sermon in particular where he was using a play by Tennessee Williams as a guide to make us think, that applied then, as well as now with our national and international situations. You may remember in The Streetcar Named Desire, Blanche is appalled by Stanley's brutish behavior and she says to her sister Stella: "Maybe we are a long way from being made in God's image, but Stella, my sister, there has been some progress made… new light has come into the world that we have got to make grow and cling to and hold as our flag.  In this dark march toward whatever it is we are approaching … don't, don't hang back with the brutes." Don't those words quoted by Ned apply then as they do now? "Don't hang back with the brutes."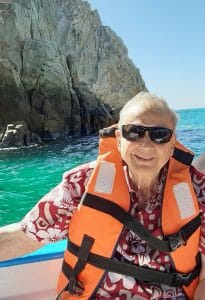 Throughout our lives, I had the traveling bug. Ned was losing his eye sight and I wanted us to see the world while he could see.  When we went to Kenya, I remember seeing him jumping up and down with a group Masai men, perfectly comfortable in their surroundings.  We sat under the cherry blossoms in Japan, walked up the Wall of China, visited several regions in Europe, enjoyed the warm sun in Tahiti, the Caribbean, Cancun, Puerto Vallarta; traveled to Nicaragua to visit my father; however, some of our best times were returning to Yosemite or traveling through the small towns around Sacramento, where we lived when we got married – up the foothills in Amador and El Dorado Counties. I introduced him to Geishas dressed in their beautiful kimonos in Kyoto and to the grandeur of Victoria Falls in Zambia. He showed me the majesty of Yosemite and the beauty of Lake Tahoe.  I think we are even.
They say people from Minnesota might be reserved or appear distant or cold.  Not so in my husband's case.  He was very tactile – loved giving big hugs, and was always eager to hold my hand.
May you rest in heaven, my love, thank you for being in my life.